Based on a recently news from COMMUNITY IMPACT NEWSPAPER, a new and gated Bee Cave community called Lakes Edge is planned with all students attend the Eanes ISD schools. The development is in the infrastructure phase, and expects to see first house move-in ready on second half of 2017. The location of Lakes Edge is East of Lake Pointe and West of Senna Hills. Lakes Edge subdivision will have 132 houses with price range in the $500k – $600k to start .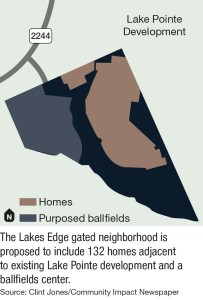 If you are looking for new construction houses in Eanes ISD, don't miss this opportunity. Visit my commission rebate page on how to receive huge commission rebate on builder homes.
"A new, gated residential subdivision is planned for a 67-acre tract in Bee Cave bordering the Lake Pointe subdivision off Bee Caves Road. However, unlike the city's other neighborhoods that are zoned to Lake Travis ISD, the children who would live in Lakes Edge will attend Eanes ISD schools.
"Families will be able to shop at H-E-B and then go toward town to go to school," said Lakes Edge developer Clint Jones, who owns Regal Land Development.
The parcel, formerly owned by EISD, was originally planned as part of a tract that would house a second high school for the district, an idea turned down by voters, he said.
A little over a year ago, EISD put out a request for bids for a buyer for the tract, which had been part of a larger property that was split into three parcels by the Travis County Appraisal District, Jones said. He won the proposal—for two of the three parcels totaling 67 acres—with a
$4.85 million bid, he said. Only 47 acres of Jones' tracts will be developed into the subdivision.
The third 26-acre parcel remains with the school district to be used for sports fields as part of its negotiations to build a River Hills Road sports complex, Jones said. He said he agreed with the district to create a neighborhood with single-family homes to add students to EISD, he said.
Lakes Edge, 2500 Ashley Worth Blvd., Austin, will include 132 homes with half of the lots sized at 60 feet and 70 feet wide by 120 feet, Jones said. The homes will be 2,000 square feet to 4,000 square feet and priced in the $500,000-$600,000 range to start, although no builders for the project have been selected, he said.
A trail system will be included in the development, Jones said.
The property was in the city of Bee Cave's extraterritorial jurisdiction—an area adjacent to the city limits but not serviced by the city. Bee Cave annexed the parcel in 2015, but the utility agency that would provide water and wastewater service to its residents—West Travis County Public Utility Agency—told Jones it could provide water to the planned neighborhood but not wastewater, he said.
Jones said he intends to install an on-site, underground wastewater treatment system in the new development, similar to what he developed at other communities he created—The Reserve at Lake Travis and The Summit at Lake Travis.
The project's plan is to have the infrastructure complete by spring 2017 with model homes possibly on the ground around the same time, Jones said. It is foreseeable that the first move-in homes can be ready by fall 2017, he said.
"Eanes ISD really needs more students, but the [district] is geographically restricted," Jones said. "We are hopeful they will end up with new students enrolled in their district for the 2017-18 school year."
Bee Cave City Council approved the site plan for the project Feb. 23, 2016 "