AUSTIN, Texas – Aug. 18, 2016 – Single-family home sales volume declined in the Central Texas area for the second time in 2016, according to the July 2016 Central Texas Housing Market Report released today by the Austin Board of REALTORS®. Across the Central Texas region, 4,230 single-family homes were sold in July 2016, a decrease of 3.1 percent compared to July 2015.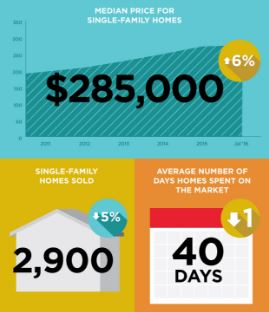 "When it comes to sales volume, we've grown very used to seeing year-over-year increases every single month, but it's important to remember that 2015 had the strongest summer selling season in the region's history," said Aaron Farmer, 2016 President of the Austin Board of REALTORS­®. "The value of Central Texas real estate has continued to increase, which is good news for homeowners, but those rising prices could start to have a cooling effect on sales volume in the market amidst growing affordability challenges."
The median price for single-family home sales in Central Texas was $260,000 in July 2016, a 6.1 percent increase compared to the same month of the prior year. Over the same time period, Central Texas inventory levels were statistically unchanged at 3.6 months and homes spent an average of 48 days on the market, three days less than July 2015.
A closer look at regional home sales among various price classes showed drastically different housing market conditions between the lower- and higher-end segments of the market. Across the Austin-Round Rock Metropolitan Statistical Area (MSA) in July 2016, inventory for homes priced between $100,000 and $200,000 was virtually non-existent at less than one month of inventory. Conversely, homes priced above $400,000 had more than four months of inventory, with homes priced $1M and higher well within a buyer's market at more than 13 months of inventory.
Farmer continued, "The City of Austin's high development costs make it virtually impossible for homes under $250,000 to be built within city limits. In return, this pent-up demand is driving home prices up in surrounding areas in where lower-priced housing stock can be built. The result is a catch-22 of housing development, where the homes that can be developed are largely in price classes where both prices and inventory are higher, while the much-needed housing stock under $250,000 goes un-replenished."
Focusing on the five-county Metropolitan Statistical Area (MSA), single-family home sales dropped 4.9 percent year-over-year to 2,900 home sales, while the median home price increased 5.6 percent to $285,000. Monthly housing inventory within the Austin-Round Rock MSA was 2.8 months in July 2016, statistically unchanged compared to the year prior.
"Home prices are at their highest level in history in the Austin-Round Rock MSA, and as a result more existing homeowners have been putting their homes on the market this year," saidJonathan Smoke, chief economist at realtor.com®. "But by contrast, the Austin-Round Rock MSA remains hot relative to the U.S. In July, listings in Austin moved 20 days faster than the US overall and received 39 percent more views compared to the U.S. average on realtor.com®."
Narrowing in on the City of Austin specifically, the median price hit $345,000 in July 2016, a 4.6 percent increase from the year prior, while home sales volume declined by 7.3 percent to 870 homes sold. Housing inventory rose from 2.1 months in July 2015 to 2.4 months in July 2016 and homes spent four more days on the market than the previous year.
Looking further north, the median price in Williamson County rose 6.6 percent annually to $262,000 and home sales volume decreased by 6.5 percent to 1,010 home sales. Homes spent two days fewer on the market in Williamson County and inventory decreased from 2.5 months of inventory in July 2015 to 2.4 months this year.
South of Austin, Hays County saw the largest year-over-year dip in sales volume by 7.4 percent with 339 homes sold in July 2016. The median price hit $237,900, which is up by 3.5 percent year-over-year. Housing inventory increased by .4 months to 3.2 months inventory and homes spent 16 fewer days on the market compared to July 2015.