AUSTIN, Texas – Oct. 18, 2016 – Single-family home sales increased across the Austin-Round Rock Metropolitan Statistical Area (MSA), but declined throughout the City of Austin in September, according to the September 2016 Central Texas Housing Market Report released today by the Austin Board of REALTORS®.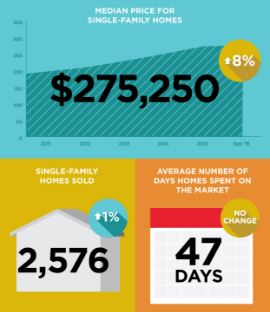 Aaron Farmer, 2016 President of the Austin Board of REALTORS­® said, "Housing is at the center of all economic development. Nowhere is this more evident than at the intersection of housing affordability and mobility. As more and more homebuyers look outside of Austin's city limits to find an affordable home, our region's infrastructure is increasingly strained and the overall costs of homeownership rise because of the increased cost to commute."
In September, less than one in three homes sold in the Austin-Round Rock MSA and less than one in five homes sold in the Central Texas region were sold within Austin's city limits. City of Austin single-family home sales declined 4.5 percent year-over-year in September 2016 to 746 home sales, while home sales across the Austin-Round Rock MSA increased 1.3 percent year-over-year to 2,576 home sales. Across the Central Texas region, single-family home sales were up 6.1 percent from September 2015.
During the same time frame, the median price for City of Austin homes increased 10.6 percent year-over-year to $345,000. Across the five-county MSA, the median price for single-family homes was $275,250, an increase of 7.5 percent from September 2015.
In June, the Austin Board of REALTORS® announced its support for the City of Austin's $720M mobility bond proposition, applauding the proposed investment in major corridor improvements, plans for regional roadways  that will bring immediate congestion relief and implementing pedestrian pathways that enable safe routes to schools for all school-age Austinites.
"Austin's traffic congestion worsens every day. Our city cannot afford to keep putting off much-needed infrastructure improvements while waiting for the 'perfect plan' to come along," commented Mayor Adler. "As mobility throughout our region is impacted, so is the quality of life for all Austinites and our reputation as a place to live, work and do business. The time to act is now."
"Both Austin's current housing stock and infrastructure are not sustainable for our region's projected population growth, which is expected to double by 2040," added Farmer.
In September, housing inventory throughout the Austin-Round Rock MSA increased 0.1 months year-over-year to 2.7 months of inventory, far below the Real Estate Center at Texas A&M University's estimation of 6.5 months in which the supply and demand for homes are balanced. Due to increasing housing demand outside of Austin, housing inventory levels in Williamson County are now equivalent to inventory levels in the City of Austin. In September, the housing inventory for both Williamson County and the City of Austin was 2.4 months.
Single-family homes in surrounding markets also continued to spend less time on the market in September 2016. In Williamson County, homes spent three less days on the market, or an average of 44 days. In Hays County, homes spent an average of 48 days on the market, one day less than September 2015.
"Austin has the opportunity next month to vote for meaningful, much-needed transportation funding that can finally bring congestion relief to our region," concluded Farmer. "Solutions for Austin's transportation challenges cannot be delayed any longer. The Austin Board of REALTORS® urges Austin residents to vote "yes" for the $720M Mobility Bond on Nov. 8."