AUSTIN, Texas – Aug. 17, 2017 – Single-family home sales volume held steady across the Austin-Round Rock Metropolitan Statistical Area (MSA) in July, while housing inventory levels posted strong gains, according to the July 2017 Central Texas Housing Market Report released today by the Austin Board of REALTORS®.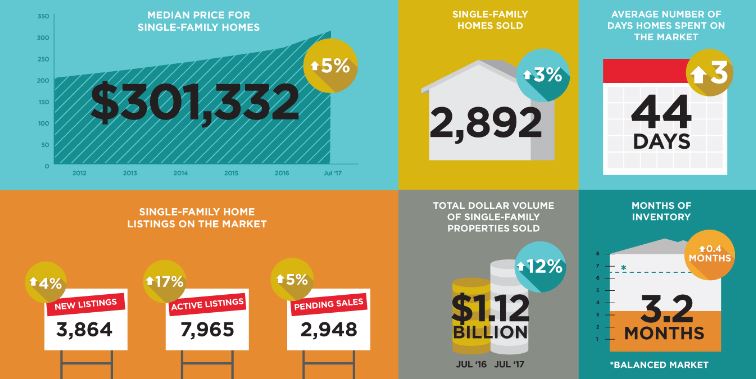 Brandy Guthrie, 2017 President of the Austin Board of REALTORS­®, commented: "In years past, the high demand of the summer selling season has further constrained inventory levels and further pushed up home prices. This year has been different, with steady gains in sales volume as well as listings and inventory throughout the summer. During a month when housing inventory should reach its lowest point of the year, housing inventory across the Central Texas region is at its highest point since fall 2012."
In July 2017, single-family home sales volume in the Austin-Round Rock MSA increased 2.8 percent year-over-year to 2,892 home sales, while home sales within the city of Austin declined 2.5 percent year-over-year to 832 home sales. This dip in Austin's home sales growth impacted Travis County at large, which experienced a 1.1 percent decline in home sales volume in July 2017, or 1,368 home sales. During the same month, single-family home sales volume jumped 15.3 percent to 376 home sales in Hays County and increased 2.3 percent to 1,004 home sales Williamson County.
Housing inventory levels surpassed 3.0 months of inventory in multiple markets in July 2017. In the Austin-Round Rock MSA, the monthly housing inventory levels for single-family homes increased 0.4 months to 3.2 months of inventory. At the county level, housing inventory increased 0.3 months year-over-year to 3.6 months in Hays County, increased 0.3 months to 3.2 months of inventory in Travis County, and jumped 0.6 months to 3.0 months of inventory in Williamson County.
Single-family housing inventory remained under 3.0 months in the city of Austin in July 2017, increasing only 0.1 months to 2.5 months of inventory. Despite strong gains in housing inventory last month, Central Texas housing inventory levels remain well under the 6.0-6.5 months of inventory the Real Estate Center at Texas A&M University cites as a balanced housing market.
Guthrie continued, "Strong homebuilding activity throughout Central Texas – particularly in Williamson and Hays counties – has been a key driver of housing inventory growth and in starting the region's housing market on the path towards a balance between supply and demand. It's important to note, however, that as home prices and development costs continue to rise, so does the price range of homes on the market."
The 2017 Austin Quarterly Briefing recently released by Metrostudy showed that the pace of single-family home starts in the Austin area are at their highest level in 10 years, with approximately 1,000 more home starts in the second quarter of 2017 than the year prior. More than half of these home starts were in the $250,000-$299,999 price category, with Cedar Park/Leander West, Pflugerville and Kyle/Buda comprising nearly one-third of home starts activity. Metrostudy's boundaries cover Hays, Williamson and Travis counties.
The median price for single-family homes continued to rise at a steady pace in July 2017, increasing 7.2 percent year-over-year in Austin to $369,900 and increasing 5.2 percent year-over-year to $301,332 across the five-county MSA. At a county level, median sales price jumped 13.1 percent to $270,000 in Hays County, 7.4 percent to $359,865 in Travis County and 4.4 percent to $274,450 in Williamson County.
During the same time frame, active listings for single-family homes experienced double-digit gains throughout the Austin-Round Rock MSA, jumping 16.9 percent year-over-year to 7,965 active listings. Active listings, which indicates the quantity of homes available on the market at any given time, increased 20 percent in Hays County, 13.3 percent in Travis County, 26 percent in Williamson County and 10.2 percent in the city of Austin.
Guthrie concluded, "While housing development is critical to maintaining inventory amidst rapid demand, the long-term sustainability of our market lies not in the pace of development but in the price points and types of housing options being developed. Without sound development policies in place that allow for lower-cost housing solutions to be built in Austin and in surrounding markets, our region's housing affordability crisis will only continue to worsen."